Livable City Year
Long-Range Planning Recommendations for Startup 425
City Project Leads: Jesse Canedo and Anthony Gill, Economic Development
UW Instructor: Michael Ervick, School of Business, UW Bothell
Course: B BUS 491, Business Consulting
Project summary:
In this report, we address the economic health of Washington and the US in general by exploring business survivability and the ways that it can be improved. We find that business survival rates have declined in the state of Washington, and that the two root causes for this decline are inadequate business education and insufficient resources. Because 60% of business owners have difficulty understanding business regulation and law, and only 15% of them have business degrees, the theory behind business practices is often misunderstood. A lack of resources also hinders the development of small businesses, as the owners of these businesses need access to guidance — in the form of networks and mentors — as well as to a wide variety of funding organizations, in order to sustain and grow their businesses.
Startup 425, as a business development program with the goal of regional economic development, can make a positive impact when it comes to economic health, by providing the services that are needed by these entrepreneurs. The four main services that it can provide are incubators, accelerators, workshops, and co-working spaces. All of these services are viable sources of revenue for Startup 425. Additionally, we found that programs that offer these services successfully do so by maintaining a strong organizational mix with support from entrepreneurs, funding organizations, academic institutions, and community organizations.
We recommend that the City focus on identifying the needs of the region by examining the local economic system, which encompasses the relationships between all entities involved in the economy. From this examination, the City can facilitate the creation of an organizational network and the development of economic infrastructure by providing resources to entrepreneurs. The primary business development functions of Startup 425, such as the incubator or workshop, can be viewed as the relative center of the economic system where business inception and growth occur. After following a seven-step process, which we list in this report, Startup 425 can begin to offer its first major services, and later expand by using grants, revenue streams, and corporate funding. We recommend that the first services to be offered are workshops and classes. From these workshops and classes, entrepreneurs will be able to gain business savvy and bolster their educations, which will help improve business survivability in the region in the long run.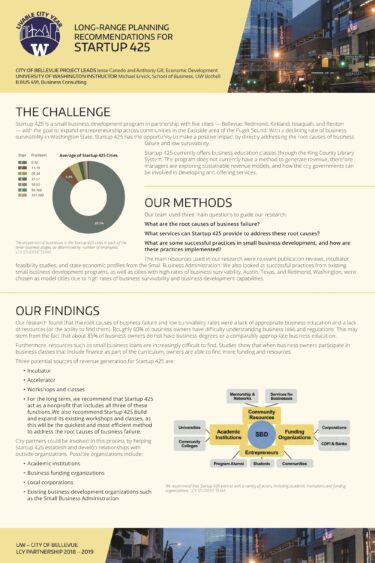 See all Livable City Year projects in Bellevue that UW students and faculty worked on during the year-long partnership.